How to Profit from the Coming Worldwide March Towards Communism The World is Becoming Communist, and Here's How to Profit from It
 
Yet another billionaire has come out and joined the gold aficianado club, and this time it's Thomas Kaplan who says gold could hit $5,000/ounce over the next 10 years.
Considering the Dow Jones has more than tripled in the last 10 years, mainly due to central banking programs like quantitative easing and other tricks like allowing corporations to buy back their own shares, I'd say an expectation to see gold soar is nothing short of pure realism.
And now, with world central banks uniting to lower interest rates, to keep money borrowing (for the big institutions) cheap, and to further penalize responsible savers in the middle class to keep the stock markets propped up, it's clear that the inmates are running the asylum.
Mass Theft on a Worldwide Scale
 
What this united interest rate cut amounts to is nothing short of mass financial fraud. Economies are failing without government intervention and central banks are now openly admitting to buying securities on the open market to keep everything propped up. Picking winners and losers is not exactly the standard textbook definition of free market capitalism, and is actually the antithesis thereof.
It's become so commonplace before Jerome Powell finally admitted he'd likely cut interest rates 2 more times in 2019 to see the Dow Jones drop 300 – 400 points in a day by mid morning, only to be bought up excessively starting everyday at around 3:30 pm NY time. Once again the Plunge Protection Team is the likely culprit to keep the markets from dying.
At the same time we see the disappearance of a yield curve in the Treasuries markets, as now the 3-year bond yields more than all other bonds except for the 30 year. This mass bond buying is clearly being done by large institutions to keep yields so low that people will not be willing to park their money in a safe place, but rather keep it on the stock market until the central bankers all finally run out of tricks and decide to let it fall.
I don't know about you, but that's not someplace I would want to be when it happens, and it WILL happen.
Maybe not today. Maybe not tomorrow. But you can't print money forever while layoffs are increasing exponentially, money velocity in the real economy is decreasing, and now even President Trump is asking for more QE (quantitative easing), when he once called the stock markets fake during his candidacy for office.
And it's no wonder then that the price of gold has broken out of its recent lows to make surges during all of this financial manipulation and tom-foolery, and the sky's the limit for people willing to pick up gold and silver for their 401ks or IRAs.
Save Your IRA or 401k from a Coming Stock Market Collapse with a Gold IRA Rollover
 
A Gold IRA:
*Can protect you from the devaluation of the dollar due to un-payable US national debt
*Helps you make money even as stock markets decline, drop in price, or even crash
*Provides all the same tax benefits of a traditional IRA or 401k
Click here to receive a free Gold IRA investment kit or Call 1 (844) 912-1706

Other Must-Watch Financial News Videos
Author adminPosted on June 7, 2019August 10, 2019Categories market newsTags 000, bonds, coming recession, federal reserve, financial news, financial videos, gold, gold $5, help videos for retirees, jerome powell, predictions, protect your 401k, protect your ira, protect your retirement, silver, stocks, thomas kaplan, world central banks cut rates, yield curve
Your email address will not be published. Required fields are marked *
Comment
Email *
Website
Currently you have JavaScript disabled. In order to post comments, please make sure JavaScript and Cookies are enabled, and reload the page. Click here for instructions on how to enable JavaScript in your browser.
Post navigation
Previous Previous post: Top Economist Says We're in a Recession Right Now: Financial & Stock Market NewsNext Next post: 401k and IRA Accounts Beware of These Interest Rate Cuts! It's Not as Safe as You Think
Thanks For Visiting Our Site!
Best Place to Buy Gold and Silver Online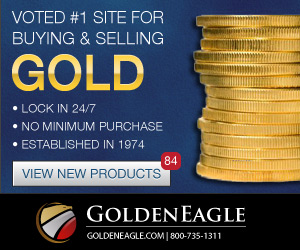 Stock Market Bulls or Bears? Who Cares?
Why Own Gold & Silver?
Ron Paul: Gold Bull Market is Here
Search for: Search
End of the Petro Dollar and US Dollar Dominance
Recent Posts
The U.S. and Europe have historically manipulated the price of gold through increasing margin requirements and concerted gold lease programs at crucial times to maintain the hegemony of the US dollar and the Euro, but with rising federal deficits in the West we are seeing the dollar exit stage left as the world reserve currency.
We Are in the Biggest Bubble in History
Predictions & Recommendations for Investors
Pages