Dow Jones Loses 800 Points, Banks Pay You to Get a Loan, US Auto Sales Being Hidden Dow Jones Drops as Key Recession Indicator Alarms
If you've been following this blog or my YouTube channel, then you'll know that the yield curve inversion in US bonds, a traditional and historically accurate recession indicator, triggered 3 months ago and has held steady since that time. And yet today, mainstream news once again acted surprised as the yield curve worsened, and now a 2-year Treasury will pay you more than a 10-year.
And of course, the Dow Jones fell 800 points as well.
With no fundamentals supporting the overpriced stock market, it really has become a leaf in the wind to blow lower or higher on a whim. Indeed, in recent times market index moves of 400 points in a single day occur seemingly with very little rhyme or reason, other than a roll of the dice.
What the general public doesn't realize is that long-term, the big money has already started exiting the market, leaving the retail investor, 401k and IRA account holder exposed to a significant potential loss.
More Strange Anomalies in the Phony Economy
Imagine a world where a bank would actually pay you to take out a loan so you could buy a home. Sound too good to be true? Well it is, and it's actually happening too. But why? Why would a greedy bank be so kind to just give you money?
Of course, that is, unless they were just trying to bait you into taking on risk during a seriously troubling financial time.
That's exactly what banks are doing now, attempting to coax unsuspecting people into buying things they ultimately can't afford so they can just confiscate it back in a few years while collecting some short-term profits. In addition, with real inflation rising and every major nation's central bank cutting interest rates and devaluing their currency, it means it takes even more dollars to buy the same house, because the dollars get weaker by the day.
This is also why US auto defaults are at record highs and at the same time auto sales are plunging, while the average price of a car has increased- but it doesn't just stop there.
US automakers have actually stopped reporting monthly sales of automobiles recently, even as all foreign car producers continue to release monthly data. Why would US automakers suddenly stop reporting monthly sales, when they have always published this information? Could it be to hide the reality of the economy that we're all living in and witnessing the veil lift from continuously?
One thing's for sure, you cannot trust what the media, corporations, or governments are telling you right now. You have to think for yourself, or else it's going to mean you might find yourself in a position to lose your house, car, job, life savings or retirement.
Protect Your IRA or 401k – Roll Over to a Gold or Silver IRA
A Gold IRA:
*Can protect you from the devaluation of the dollar due to un-payable US national debt
*Helps you make money even as stock markets decline, drop in price, or even crash
*Provides all the same tax benefits of a traditional IRA or 401k
Click here to receive a free Gold IRA investment kit
Watch: Anticipated Market Recovery Failing to Materialize- Why the Federal Reserve HAS to Cut Rates in September
 
Author adminPosted on August 14, 2019August 17, 2019Categories market crash, market newsTags 401k, banks now pay you to get a loan, best ira accounts in 2019, bond yields, debt, dow jones loses 750 points, dow loses 800 points, economy, gold, invest, ira, money, negative interest rates, protect, retire, save, silver, stock market trends, stock market yesterday, tips, treasuries, us automakers hiding sales figures, yield curve inversion, yield curve inverts again, yields
Your email address will not be published. Required fields are marked *
Comment
Email *
Website
Currently you have JavaScript disabled. In order to post comments, please make sure JavaScript and Cookies are enabled, and reload the page. Click here for instructions on how to enable JavaScript in your browser.
Post navigation
Previous Previous post: Bed Bugs: What Are They, Where They Hide, and How to Get Rid of ThemNext Next post: Fed Plans to Pump $1 Trillion into System in 14 Days as 1 CEO Buys $90 Million in Gold & Silver
Thanks For Visiting Our Site!
Best Place to Buy Gold and Silver Online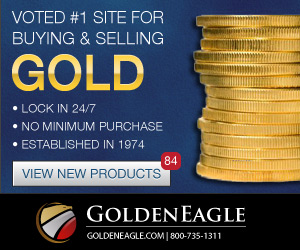 Stock Market Bulls or Bears? Who Cares?
Why Own Gold & Silver?
Ron Paul: Gold Bull Market is Here
Search for: Search
End of the Petro Dollar and US Dollar Dominance
Recent Posts
The U.S. and Europe have historically manipulated the price of gold through increasing margin requirements and concerted gold lease programs at crucial times to maintain the hegemony of the US dollar and the Euro, but with rising federal deficits in the West we are seeing the dollar exit stage left as the world reserve currency.
We Are in the Biggest Bubble in History
Predictions & Recommendations for Investors
Pages